Angela Kumpe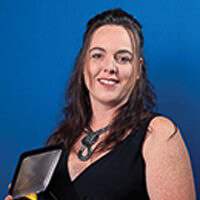 Internationally renowned creative stylist and instructor, Angela Kumpe has more placements in creative styling than anyone, worldwide. She won the first ever Barkleigh Honors Award for Creative Competitor. She is the author of A Creative Collection, a step-by-step guide to creative styling. Angela's work has been featured on Animal Planet, TLC, The Today Show, Regis and Kelly, and ABC Nightline as well as in The New York Times and on the cover of Groomer to Groomer magazine. Angela is the owner of Angela's Grooming and Pet Spa in Little Rock, Arkansas.
Grazia Adriani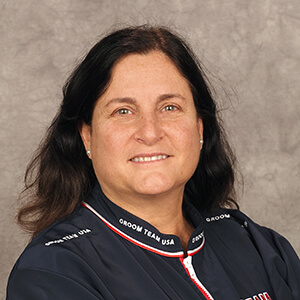 Grazia "Grace" Adriani is a Nationally Certified Master Groomer with NDGAA, and a certified groomer with IPG. She graduated from Merryfield School of Pet Grooming in 2015 where she was a teacher up until recently. She apprenticed under Irina Pinkusevich and Michael Lamb. Wanting to learn more, she worked with Teraz Kennels polishing her skills and expertise on hand-stripping, specifically Lakeland Terriers. Once she experienced dog shows, she was hooked. She has shown several dogs, including her very own champions CH Teraz Bringing Sexy Back (Justin) and CH Teraz Gotta Have It (Velociraptor). She currently breeds Kerry Blue Terriers and Lakeland Terriers.
Allison Alexander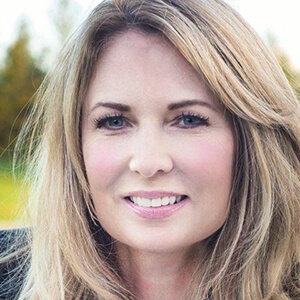 A student-become-master of purebred dogs, Allison Alexander has honed her skills through hands-on experience with breeders, handlers, and groomers all over the world. She has become the go-to resource for both beginner and advanced Poodle owners, handling everything from basic grooming techniques to planning and executing the most difficult show trims. Allison is known around the world for her unique teaching ability that connects with students on every level. Allison has presented seminars on grooming Poodles, Shetland Sheepdogs, Australian Shepherds, Spaniels, Setters, Afghans, Affenpinschers, Kerry Blue Terriers, and many others all over this planet. She is also the Creative Educational Advisor and Specialist for Chris Christensen Systems. In 2017, she launched Leading Edge Dog Show Academy, the world's first online dog show training and grooming school. LEDSA has won the award for Best Online Education each year since its inception. Her mission is to help mentor a new generation of dog enthusiasts through innovative video-based grooming lessons.
Chris Anthony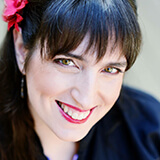 Chris Anthony, weary from her travails in retail management and office work, found her calling when she discovered pet grooming. Her near fifteen year journey in this career has led her through many opportunities, experiences & life lessons, including grooming and managing in both small and corporate salons, and starting her own successful house call grooming business in New Jersey. Supplementing those life lessons by educating herself on the varying aspects of her career, she always sought out innovations in pet care, education, grooming techniques, tools and products. Now her passion for grooming & education has added more in depth knowledge on scissors, scissoring techniques and ergonomics to help preserve her own health and longevity in her chosen profession.
Kathlena Austin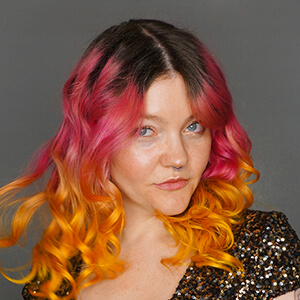 Sharing the same passion as her husband, Kathlena Austin has been elevating the standards of dog grooming since 2007. A Nationally Certified Master Groomer for over 4 years, her expertise doesn't end there. As an open-level competitor, she continually hones her craft. Kathlena wears multiple hats – she's the Vice President of the San Francisco Bay Scottish Terrier Club and showcases her love for the breed by both showing and breeding Scottish Terriers. As the backbone of 'A Cut Above Grooming Salon', she's led the business for 4 years and recently expanded with a state-of-the-art mobile grooming unit.
Nathan Austin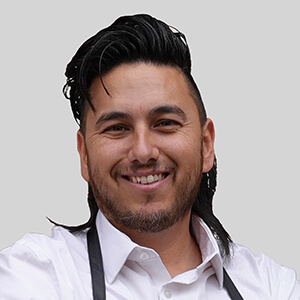 With a grooming career that spans since 2007, Nathan Austin is a true craftsman in the art of dog grooming. Holding the prestigious title of a Certified Master Groomer for over 5 years, his skills have not only been recognized but celebrated. In 2022, Nathan clinched the title for 'Best All-Around Groomer' at Groom Expo West and was nominated for the Barkleigh Honors Award in multiple categories, including Best Up and Coming Groomer. 2023 saw him being acknowledged for 'Best Educational Video', 'Best Entertainment Video', and 'Best Instagram'. His crowning glory came when he was honored as the AKC Master Groomer of the Year in 2023. As an entrepreneur, he's been the proud owner of a flourishing grooming salon for the past 4 years.
Dr. Tiffany Bierer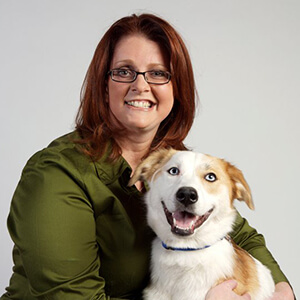 Dr. Tiffany Bierer has spent the last 28 years with MARS Pet Nutrition researching nutritional strategies to benefit cat and dog health. Dr. Bierer holds a PhD from the University of Illinois in Food Science/Nutritional Biochemistry and a BS in Animal Sciences, also from the University of Illinois. During her time at MARS, her areas of research have covered several health benefit spaces including skin and coat, immune system, arthritis, obesity and dental health. She has also appeared on Animal Planet's Dogs 101. Today she serves as the Grant Chairman on the Board of Directors for the PEDIGREE Foundation and is a member of the Veterinary Advisory Board for the Nashville Zoo. At Mars Pet Nutrition NA, she currently manages Raw Material Development for and lives in the Nashville area with her three cats Dunn, Svea and Weber.
Jennifer Bishop-Jenkins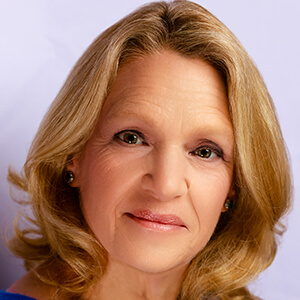 Jennifer Bishop-Jenkins is the Owner/Master Groomer at Love Fur Dogs in Glencoe, Illinois. Named "Best Groomer in Chicagoland" by the Chicago Tribune, she has been grooming, breeding, and showing several breeds of dogs and cats for over four decades. A retired career teacher now living in Virginia, Jennifer is an International Certified Master Groomer with an expertise in the science and history of dogs and the unique needs of the wide variety of pet coat types. She was featured on Season Three of the Hulu Television Series "Small Business Revolution" as a Grooming Expert. Jennifer also writes magazine articles and has won an award for her blog. She has been active in legislation that affects pet groomers, building state grooming associations, groomer education, and credentialing. She has published a poster and is working on a book of the same title, "A Groomers Guide to the Fifteen Coat Types," based on her ground-breaking seminar.
Nadia Bongelli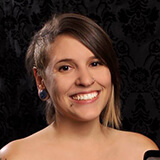 Nadia Bongelli has been grooming pets since 2009 and competing since 2012. Her accolades include Barkleigh Honors Up and Coming Groomer of the Year in 2016, Best All Around International Groomer at Intergroom 2017, five Rising Star Gold Medals, Rising Star of the Year award at Intergroom 2016, two Canadian BIS awards and had numerous Open Level placements in Canada and several in the United States. Nadia's proudest moment was being awarded Canadian Groomer of the Year at the very first Canadian Grooming Industry Awards. She is a Nationally Certified Master Groomer with the National Dog Groomers Assoc. of America, Inc. and a certifier with the Intellectual Groomers Association. Her ultimate goal is to represent her country on Groom Team Canada with her peers.
Elli Bultemeier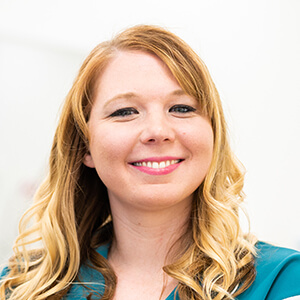 Elli found her passion for grooming over a decade ago when she started as a bather at PetSmart. Not long after training to be a groomer there, she moved to the private sector. She is an award-winning competition groomer, certified pet aesthetician, NCMG, and co-owner of Retro Stylist wear. In 2017, Elli started at Smoochie Pooch and currently wears many hats as she is currently a marketing development and regional manager, helping run a company with more than 7 locations and about 40 employees. She is passionate about helping the business grow and creating an employee first, compassionate work environment for her team.
Dana Chavez-Rey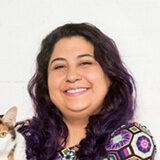 Dana got her start as a lead veterinary technician at the North Peninsula Humane Society from 1998. While working there she witnessed firsthand the importance of basic care for our pets. She worked in many areas of the veterinary world before becoming a groomer in 2005 and founded A Purrfect Groomer. After 10 years in the brick and mortar salon she decided to go mobile and has been at it ever since. As a feline grooming expert, Dana was a founding member of the Intellectual Groomers Association and she wrote the guidelines that were used in feline certification. Now a Global Educator with Andis, Dana brings her vast knowledge of feline grooming to the everyday groomer.
Rachel Colant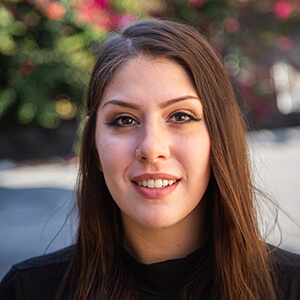 Rachel Colant is an award-winning, second-generation dog groomer with over eleven years of experience. She put her stamp on the grooming industry as the go-to drop coat specialist and has become known for the cutest Yorkies in all the land. Her passion for education has led her to the coveted position of lead groomer at Jess Rona Grooming in Los Angeles where she oversees competition-level grooming on every dog, every day. Her ultimate goal is to continue to elevate the industry through education and her signature gentle grooming techniques.
Vivi Diaz de Leon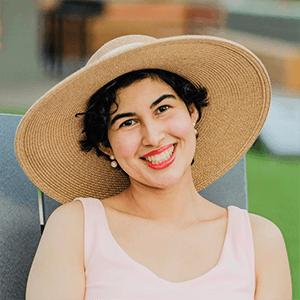 Vivi Diaz de Leon is a brand designer, web designer and founder of Fido Designs, a branding and web design agency exclusively serving pet businesses. She is dedicated to helping petprenuers build successful, memorable brands that are sure to catch your eye. She's continuously researching the latest trends in design, technology, and marketing to help pet businesses keep up in the rapidly changing digital age. Vivi believes that every biz deserves to stand out in its own unique way, and she's out to give petpreneuers confidence with a brand and website they'll be thrilled to show off. Her goal is to continue to elevate the industry through education and professional, personality-packed design that brings out the best in every pet business.
Teri DiMarino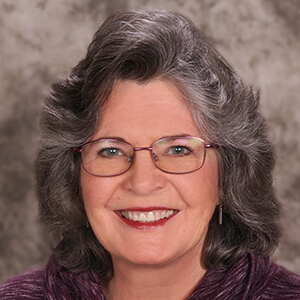 An industry veteran, Teri has owned and operated successful salons and mobiles in Florida and California. A winning grooming contest competitor, Teri was a member of three GroomTeam USA Gold Medal teams. A multiple Barkleigh Honors and Cardinal Crystal Award winner, Teri was a regular columnist for Groomer to Groomer Magazine as well as a popular speaker and judge at seminars and trade shows across the United States, Canada, Europe, South America, Korea, Australia and New Zealand.
Dr. Cliff Faver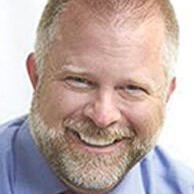 Dr. Cliff Faver, a 1987 graduate of CSU, is the founder/owner of Animal Health Services in Cave Creek, Arizona. He is the US distributor for Iv San Bernard products. He uses the two businesses as a means of merging the grooming and veterinary professions to pursue his life's passion of healing and helping pets. Dr. Faver is an international speaker and teaches the ISB Pet Aesthetician Certification program. He is a member of AVMA, AAHA, AZVMA, a sponsor for the CPPGA, a Board member for the Burbank Kennel Club, and previously served on the Novartis Lead Committee, Hill's International Global Veterinary Board, and is still active in a Veterinary Management Group.
Gabriel Feitosa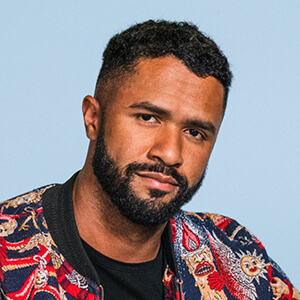 Gabriel Feitosa is an internationally-awarded dog groomer from Brazil. He started his grooming career at 12 years old in a small town on the outskirts of Sao Paulo. He now has over 18 years of experience with pets, show dogs and creative grooming. Gabriel is an international speaker, judge and has over 900,000 followers on his social media channels promoting the art of dog grooming to the general public.
Blake Hernandez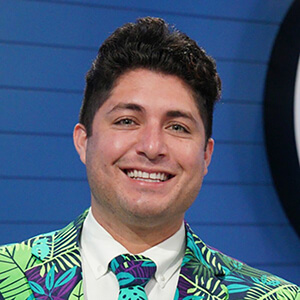 Blake Hernandez is a NCMG and three-time Barkleigh Honors recipient. He is best known for his online persona and caterwauling lyrics that speak to our industry. Blake has brought innovation and current outside trends to the grooming industry from Personality Marketing to the FoxEye, a phone holding device for the everyday groomer or aspiring influencer. Blake runs Foxy Roxy's Pet Salon in San Diego, CA, in addition to competing in grooming contests and dog shows all over the country. He is the co-creator and founder of GroomSource, an app made for groomers' continued education, as well as creator and producer of many products with Foxy Roxy's Supply Co. Blake was also a feature groomer in Netflix's "DOGS" documentary and a contestant on ABC's Pooch Perfect Season 1.
Denise Heroux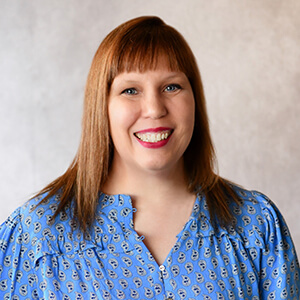 Denise Heroux owns Awesome Paws Pet Salon, a Cleveland-based chain with two locations and active plans for expansion. Awesome Paws fosters a healthy environment for employees and pets with a focus on employee investment and learning. While managing both locations and a staff of over 20 employees, Denise finds time to work with the Ohio Professional Pet Groomers Association, which she founded. The association focuses on setting a higher standard for pet safety, business-building opportunities, versatile learning experiences, and creating legislative fluidity in the industry. You may have listened to Denise on both the Women PetPreneurs and Small Business Hiring podcasts.
Meg Ioffredo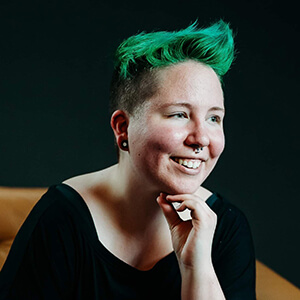 Meg Ioffredo has been a pet professional since 2012, beginning as a bather at a corporate salon. Since then, they have taken every continuing education opportunity available to them and proudly have numerous titles under their belt: certified Pet Tech instructor, certified feline master groomer, rabbit groomer, certified canine esthetician, fear free certified, and more! Now, they turn their gaze on being an educator to give back to their grooming community, with a focus on cat and rabbit grooming. They also run Elevation Media Management, a small business that can do everything from managing social media posting to graphic design. This interest in social media blossomed when Meg ran a successful house call business in Florida. They realized how powerful of a tool social media can be for businesses, and now they want to share with you!
Melissa Jepson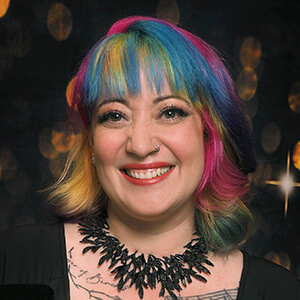 Melissa Jepson has owned the award-winning Pupscale Pet Salon in California since 2013. As a founding member of the Association of Holistic Pet Professionals, she believes in creating a soothing environment for all aspects of grooming. She is thrilled to partner with Precision Sharp to offer high-quality products and also enjoys teaching webinars through Pawsitive Educational Training when she isn't traveling. Nearly two decades of experience and a comprehensive knowledge base have made it possible to impart a fresh take with practical applications to her students which she hopes they'll use long after the seminar has ended.
Lis Johnston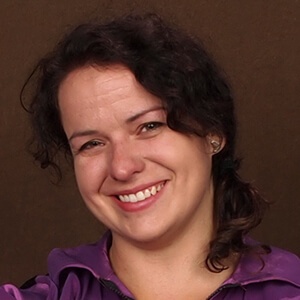 Lis Johnston is a National Master Certified groomer and owner of Serenity Pet Spa in Madison, WI. She has 15 years of experience as a professional groomer and more than 20 years showing dogs. She has won multiple awards across the United States and Internationally. She made GroomTeamUSA in 2018 and continues to strive for her goal to become a member of the USA travel team. She runs two full service, kennel free grooming salons with an apprentice programs to help groomers become master certified.
Alyssa Kasiba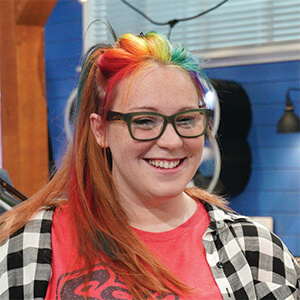 Alyssa Kasiba is an international award-winning creative groomer. She has almost 15 years grooming experience, and she began competitive grooming in 2016. Over the past years, she has specialized in creative grooming from competing on stage to teach the know hows. In the 2022 season Alyssa won 30+ awards nation wide, was on the cover of Groomer To Groomer magazine twice and ended the year won the Barkleigh Honors Creative Groomer of the Year. You may have seen her featured on Night Line News, Good Morning America, or as a Finalist on ABC's dog grooming competition show, Pooch Perfect. Alyssa has found a passion for teaching the art and creativity of grooming and can't wait to share it, through @Toesnbows on Instagram, private classes, or her favorite classrooms at a Barkleigh show!
Milena Kon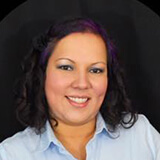 Milena started off in graphic design and direct sales before realizing that she wanted to do more with animals. So, she went into grooming in 2013. She is now the owner of Driving Me Knots (Mobile Grooming), DMK Bowtique (Pet Accessories), and DMK Marketing Solutions (Custom Graphic Designs). She started competing in Extreme Creative Styling & Creative Abstract grooming contests in 2015, and won Up-and-Coming Creative Groomer that same year. Her creative work has also been seen on "The Greatest Showman" with Hugh Jackman and "Orange is the New Black" on Netflix. She was awarded the Barkleigh Honors Creative Groomer of the Year in 2018.
Jameson Kon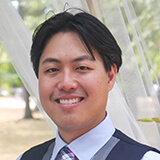 Jameson has a degree in International Business Management & Marketing, and has always had interests in working with animals at a young age. After working for a massive online retail company, managing over 300+ employees amongst 7 different call centers both domestically and internationally, he decided to jump right into the world of grooming with his wife, Milena. Now the proud owner of Driving Me Knots (Mobile Grooming), DMK Bowtique (Pet Accessories), and DMK Marketing Solutions (Custom Graphic Designs), his ability to multi-task and market the companies since 2013 is only the beginning for the DMK branding.
Courtney Lane
Courtney was born and raised in South Dakota where her adopted grandmother was a breeder and groomer, teaching her how to groom since she was a little, which included putting her Poodles in MCC since the age of eight. Currently, Courtney is a breeder of Afghans and Havanese, producing OH BIS winners, multiple group placers and a BISS winner. She also works as a professional groomer and comes to grooming shows with the Kika Group.
Mackensie Murphy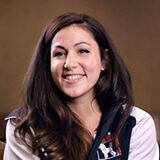 Mackensie Murphy is a second-generation pet stylist, following in her mother's footsteps and becoming the very first second generation GroomTeam USA. In 2005, Mackensie started her own grooming career at the young age of 18. Mackensie began her competition career in early 2011 and has been awarded multiple Best in Show awards, Best All Around Groomer awards and is a five-time winner of the prestigious Liz Paul Memorial Best Scissored Poodle Award. Mackensie consistently stayed among the top three competitors and earned herself a position on GroomTeam USA in 2012 which she has sustained up to this current year.
Catherine Opson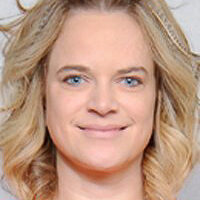 Cat Opson is a self-taught groomer who has been working in the industry for over 17 years. She has won many awards and accolades for her grooming skills in both regular competition classes and special classes such as Creative Styling, Model Dog, and Rescue Rodeos. She has been owner/operator of Estrella Pet Grooming in Capistrano Beach, CA, for 13 years. Her specialty is poodles/poodle mixes and she boasts a large, busy clientele based solely on word of mouth advertising. She has also shown/handled dogs at AKC shows since 2000 and has earned several championship titles on her poodles owner handled.
Adriane Pope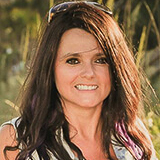 Adriane Pope is an award-winning Pet stylist in Breed Profile and Creative Grooming. Her specialty is extreme creative styling and creative abstract design. Adriane is owner/groomer of Adriane's Groom and Go Mobile Grooming in Conway, SC., and also the owner of Rivertown Bed and Biscuit Luxury Kennel since 2004. She has 24 years of grooming experience, and has been mobile for 22 years. She started competing in breed profile in 1997 and started the creative world in 2004.
Jess Rona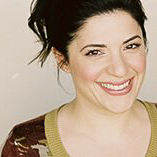 Jess Rona is a dog groomer in Los Angeles and is known for her Instagram, @JessRonaGrooming that has over 100k followers and features her signature slo-mo videos. She directed the Tegan and Sara music video for "100x", had a dog featured in Beck's "WOW" video, and directed a commercial for the Standard hotel featuring her grooming clients. She's been featured in O magazine, Marie Claire, Glamour, Elle, and Paper among many others, has been featured on several news programs including the Today Show and Good Morning America, and has had several write ups online. Some of her celebrity clients include: Katy Perry, Andy Garcia, Maria Menudos, and Marnie the Dog.
Victor Rosado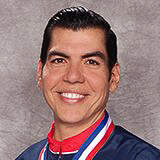 With 26 years of experience in professional grooming and conformation, Victor Rosado is a NCMG with NDGAA, ICMG, and is a certifier with IPG, as well as a Grooming Contest Judge and a Licensed All Breeds Conformation Judge for FCPR/FCI. As a competitive groomer, Victor Rosado is a multiple Best All Around and Best in Show winner, and one of the top groomers on GroomTeam USA. Victor is a member of American Spaniel Club, an AKC Breeder of Merit, and an exhibitor of American Cocker Spaniels for 20 years with multiple Best in Show and Best in Specialty Shows wins. Victor is also an Oster Ambassador in Latin America and owner of Davis Puerto Rico.
Dr. Molly Rowland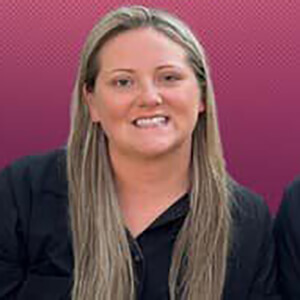 Molly started her grooming career in 2011 in a corporate salon. After a long Army deployment, she then decided the corporate salon was not the right fit and started Molly's Pampered Paws in 2014 as a solo mobile groomer. Since then, along with her husband Todd, the business has grown to include a talented team with six mobile units, a multi-groomer salon, boarding kennel, consulting division, and pet industry podcast "The Pawcast: The Business Side of the Pet Industries." Molly holds a Master's in Business Education in Corporate Training and a Doctorate of Management in Organizational Leadership. Combined with Todd's 15+ years of leadership experience as a COO, Dr. Molly and Todd work together to combine education, experience, and best practices to help other pet professionals succeed.
Todd Rowland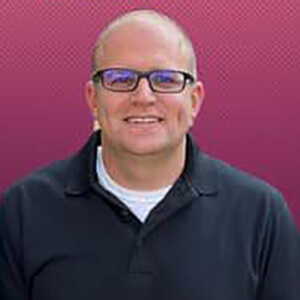 Jay Scruggs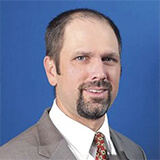 Jay and his wife, Michelle, own Here Comes the Groom, a highly successful mobile grooming salon in Germantown, Tennessee. Jay has won multiple Best in Show and Best All-Around Groomer awards and helped Groomteam USA win the Gold medal in Calgary, Canada, in 2001. Jay was named American Groomer of the Year in 2001, Groomer of the Year Award at Westminster Dog Show in 2002, and Grooming Judge of the Year in 2004. In 2003 Jay won an International Gold and Bronze medal in Barcelona, Spain, helping groomteam USA win the silver team medal. He and Sue Zecco offer seminars nationally. Jay won a Barkleigh Honors Award at the event that he emceed.
Kelsey Ann Sexton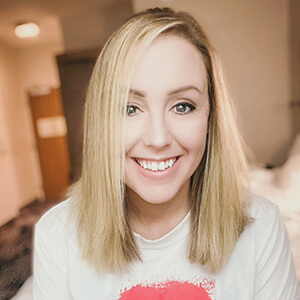 Kelsey Ann Sexton is an award winning Nationally Certified Groomer with almost two decades of Professional Pet Grooming experience. She owns an award winning salon outside of Nashville, TN that focuses on customer relationships for routine grooming services. She's also a member of Foxy Roxy Supply Company's Pro Team. Kelsey was nominated for Barkleigh Honors Speaker of the Year in 2022 and has a passion for continued education in the Pet Grooming Industry.
Tammy Siert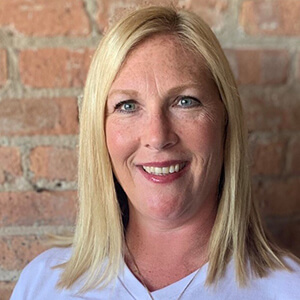 Tammy has been grooming and competing for over 24 years and now manages a busy upscale salon in Hinsdale, IL. She made GroomTeam USA in 2008, 2011, 2012, ultimately achieving her goal to travel to every show that was GroomTeam sanctioned for four years, and has been the Secretary for GroomTeam USA since 2013. Tammy has been the National Grooming Consultant for Espree Animal Products and works for Andis Company as a part of their Small Animal Education Team. She received certification from the USA Judges Alliance in 2012 and now judges at shows around the country and internationally. Tammy is certified in Animal CPR and First Aid and is currently working on becoming a Certified Master Groomer.
Nick Sklar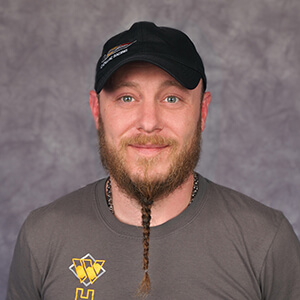 Nick Sklar is a seasoned professional with a deep-rooted passion for grooming tools and the art of sharpening. Raised amidst the whirling sharpening wheel, he has acquired over two decades of hands-on experience in the realm of grooming equipment and its dedicated users. Nick's expertise lies in meticulous equipment selection and the art of nurturing their longevity. As the General Manager of Sales and Operations at Whitman's Sharpening for just about a decade, Nick engaged in comprehensive research collaborations with renowned scissor companies, cementing his reputation as a go-to expert in the field. Notably, he has played a pivotal role in product design for esteemed brands like Chris Christensen and Whitman's products, contributing to their success through his invaluable insights and assistance.
Corina Stammworthy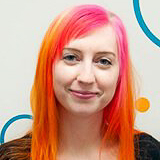 Corina stumbled into the dog grooming industry by chance, but has brought fresh eyes and new ideas. She opened The Laundromutt, a self-service dog wash and grooming salon, on the concept that washing your own dog should be easy and fun. She believes that your dog should always be in the most educated hands, and in the cleanest and calmest environment possible. Corina is a college biology instructor and is currently in graduate school for Biotechnology.
Arisa Thomas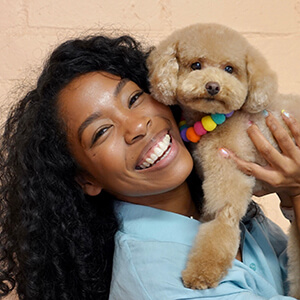 Los Angeles-based dog groomer and social media influencer, Arisa Thomas is the go-to styling expert for turning dogs into cute and cuddly bears. She started her grooming career in 2010 in hopes of following in her mother's footsteps. Together they opened Blue Pooch, along with her sister. The women-powered trio quickly became popular for their Japanese-inspired pet trims. With a following of well over 300k followers on TikTok and Instagram, Arisa is making her mark as a "modern day" dog groomer by inspiring, entertaining, and educating dog groomers, pet parents, and pet-obsessed fans!
Joey Villani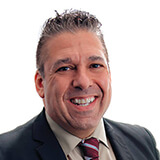 In 1998, Joey purchased the Nash Academy in New Jersey which he owned and operated until 2008. Now a well-known pet industry speaker and judge, Joey has been nominated 14 times for the Cardinal Crystal and Barkleigh Honors awards. He has been enthusiastically involved with Intergroom International for 33 years and has been instrumental in expanding the organization's reach into Belgium, Italy, and France. Joey is one of the original members of the International Judges Association and has made many television appearances. Today, Joey continues to innovate and explore new dimensions in the pet care and grooming industry. In early 2009, Joey became part of the Animal Radio on-air staff where he is known as "The Dogfather".
Elena Volnova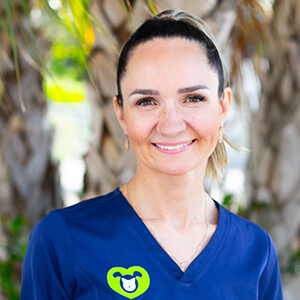 Elena Volnova is a co-founder of Dog Fashion Spa brand and PetStore Direct distribution company. She has over 10 years of retail, e-commerce and marketing experience in the dog grooming industry.
Sarah Warner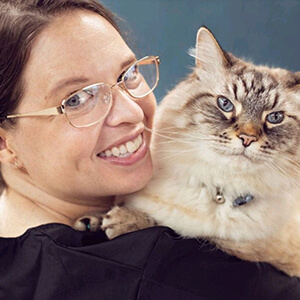 Sarah Warner is a Certified Feline Master Groomer from Brisbane, Australia. Her salon, Aristocats Feline Day Spa, was featured in the October 2022 issue of Groomer to Groomer Magazine and she was nominated for "Foreign Speaker of the Year" at the 2022 Barkleigh Honors awards. Sarah presents full-day seminars internationally, including an upcoming event in New South Wales. She has also been a featured speaker at the Bad Ass Cat Grooming conference the last three years.
Suesan Watson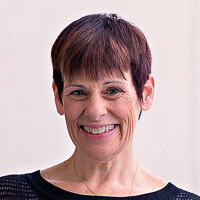 Suesan, CMG, and third-generation pet stylist, began working with dogs over 39 years ago. She owns a mobile grooming business, Best All Around Groomer, serving the Chicago area. She was the winner of the Wahl 2003 Groomer of the Year Award at Westminster Dog Show and the Cardinal Crystal Grooming Achievement Awards for American Groomer of the Year in 2002-2004, and nominated two-time nominee for the Cardinal Grooming Contest Judge of the Year award. Since she began competing in 1995, Sue has received Best in Shows and Best All Around Groomer awards. She has been a member of the 2000 – 2005 Groom Team USA teams and is a representative of the Wahl Clipper Corporation.
Ralph Whitman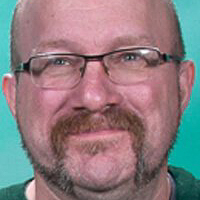 Ralph is the Owner/Sharpener of Whitman's Sharpening, one of the largest sharpeners and grooming tool suppliers in the Mid-West. Whitman's provides sales and services to over 40 AKC/UKC dog shows and trade shows annually. Ralph noticed there was a need for higher quality, safer, more effective and easier to use products within the pet industry. So, these concepts have been in the forefront of their ideals since conception of the company in 1995. Whitman's is the developer and manufacturer of the USA quality pet safe clipper blade cleaner/storage solution The Redip and The Diamastripper Tool. They operate out of Farwell, MI where they have a full retail area, as well host clinics and seminars all over the country.
Dan Williams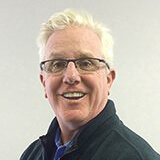 Daniel J. Williams is the managing director of EZ-Groom Pet Products Inc. in Oak Park, Michigan, U.S.A. He holds an undergraduate degree in electrical engineering from Lawrence Technological University, earned a master's degree in business administration from Baker College, and has completed the University of Chicago Advanced Leadership program. He has authored numerous articles on cosmetics, and metallurgy as it relates to pet grooming shears. Dan has designed and engineered a number of manufacturing projects at metal-making factories in the Americas, Europe and Asia. Over the past 22 years, Dan has served as president and CEO of three small closely held organizations where he managed a number of mergers and acquisitions. Dan has worked with EZ-Groom since 2002.
Olga Zabelinskaya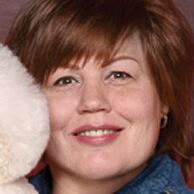 Olga is a Certified Master Groomer and owns two grooming salons, Elite Pet Spa & Boutique in Madison, NJ and Grooming Gallery in Morris Plains, NJ. She has multiple BIS and Best All-Around Groomer wins as well as two prestigious Winners Circle Champion titles. Olga is 2009 and 2010 American Groomer of the Year by Cardinal Pet, and was awarded the Lynne Carver Memorial Award as Best All Around Stylist 2009. Olga was born in Russia where she had a Master Degree in Engineering and finished law school. Olga was a GroomTeam USA member 2008-2012 and won the Silver medal in Belgium, 2011 as a part of the traveling team. Olga co-hosts many pet fundraising events.
Sue Zecco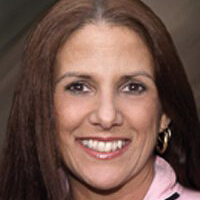 Sue is a 2011 Barkleigh Honors Award winner. She is a Certified Master Groomer with both the National Dog Groomers Association (NDGAA) and the International Professional Groomers (IPG). She has been grooming for over 30 years. She has won multiple grooming awards, including her biggest show accomplishments: 1998 International Groomer of the Year and 1999 Oster Invitational Tournaments Grand Champion. Sue has been a member of GroomTeam USA since 1997 and broke all records in 1999, earning 113 points. She is also a Wahl Clipper Corporation spokesperson. With Jay Scruggs, she conducts a series of full-day seminars called Super Styling Sessions. Sue breeds Standard Poodles under the "Dreamcatcher" prefix.